Back
Singapore: A Pineapple Canning Delight
By Mark Wong, Oral History Specialist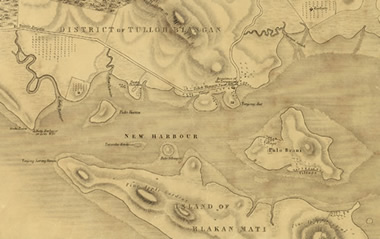 Source: National Archives of Singapore
This detail of an 1846 map by J.T. Thomson illustrates that Pine Apple Gardens proliferated the Island of Blakan Mati (today's Sentosa)

The pineapple is commonly depicted as an "exotic" tropical island fruit, with associated images of beach paradise and leisure tourism. This, however, is in sharp contrast to Singapore's experience with pineapple in the first half of the twentieth century. Singapore was once an important centre of the global pineapple canning industry, and the pineapple industry played an important role as "one of the early pioneers in the industrialisation processes of both territories [of Singapore and Malaysia]."1 Who would think that in Singapore's experience, the pineapple would yield images of an industrious modernity?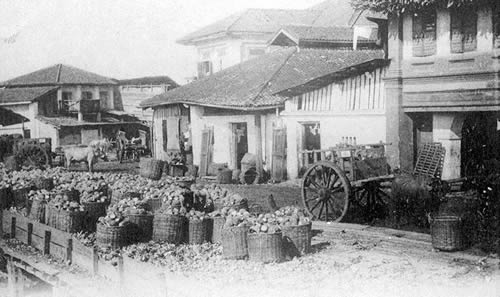 Source: National Archives of Singapore
From the mid-1800s to early 1900s, pineapples were so abundantly grown in Singapore that prices were kept very low. All three photographs are circa 1900.

Pineapple and Rubber: Interlocking Fortunes
During the rubber boom of the early 1900s, pineapple played an important role as a cash crop. Just as gambier and pepper were commonly cultivated together on the same plantation half a century earlier during Singapore's successful though brief period of spice cultivation,2 rubber and pineapple were also found to be compatible for double-cropping. Pineapple played an important role in sustaining estate owners financially since rubber trees took at least five years to mature:
"The first crop [of pineapples] is generally harvested 18 months after planting, from 1,200 to 1,500 fruits per acre being obtained. Thereafter, for a further 3 1/2 to 4 years, two main crops are reaped annually, namely in May, June and July, and in October, November and December, although small amounts of fruits are coming in all the
year round."3
The fortunes of pineapple and rubber in the early part of the 20th century tended to intertwine, and many of Singapore's pioneering businessmen made their fortunes from here. One example is Lim Nee Soon, an influential pineapple and rubber planter. In an interview with the Oral History Centre in 1985, his son, Mr. Lim Chong Hsien, described how his father became successful:
"他 就 把 这 一 笔 钱――遗 产, 外 祖 父 给 他 的, 那 么 来 投 资 在 这 个 种 植 上. 你 看 啊, 从 1902 年 到... 在 10 年 之 间, 10 年 之 间, 他 从 新 加 坡 跟 这 个 Johore, 柔 佛, 这 两 个 地 方 啊, 他 一 直 在 种 植 这 个 树 胶 跟 黄 梨, 经 营 这 个 树 胶 跟 黄 梨. 在 这 10 年 之 间, 他 已 经 把 这 两 个 地 方 开 发 了 差 不 多 有 一 万 多 英 亩, acre, 所 以 他 成 功, 黄 梨 也 成 功. 有 一 个 时 期 他 是'黄 梨 王', 那 时 候 大 概 在 1910 年 或 11 年 那 时 候, 在 马 来 西 亚 啊, 在 马 来 亚――在 那 时 候 是 马 来 亚 啦――在 马 来 亚 里 面 他 的 黄 梨 出 产 是 最 多 的, 所 以 人 家 称 呼 他'黄 梨 王'."3

"He invested the inherited money from his maternal grandfather in plantation. From 1902 till 10 years later, he planted rubber and pineapple trees in Singapore and Johore. Within those 10 years, he cultivated more than 10,000 acres of land in both areas. That is why he succeeded in both rubber and pineapple plantations. At one time, he was the 'Pineapple King'. That was probably in 1910 or 1911 when he produced the most pineapples in Malaya. So people called him the 'Pineapple King' at that time."4


Source: Lim Chong Hsien
"Pineapple King" Lim Nee Soon (centre, standing) stands in front of a motor truck from his rubber factory, fully loaded with pineapples, circa 1916. Lim was such a successful planter and influential community leader that places like Nee Soon Village, Nee Soon Road and Yishun (the Mandarin translation of "Nee Soon") New Town were named after him.

The Dawn of Pineapple Canning: a Pioneer in Singapore's Manufacturing Industry
Pineapple plantation owners in the early 1900s like Lim Nee Soon benefited from canning preservation methods which gained in popularity around that time. Canned pineapples revived the international demand of a fruit that had an unpredictable and short ripening period. In this way, the tropical fruit could be more easily exported to distant countries like the United Kingdom, where demand for it was high.5 In fact, Malaya emerged as one of the most important production centres of canned pineapples in the world, second only to Hawaii, and Singapore played an essential role in the development of the Malayan pineapple industry. As noted in the Report of the Pineapple Conference held in Singapore in 1930 and 1931: "The industry began in Singapore and was until about 1921 practically entirely confined to that island, the produce being known as Singapore pineapples."6
Along with rubber, the pineapple canning industry was a pioneer in Singapore's manufacturing industry and was a valuable source of jobs for Singaporeans. Pineapple canneries employed a mass production line of workers who were paid based on their output. For a pineapple cutter in the 1920s such as Mr. Tay Meng Hock, this amounted to 2 cents per tin of pineapple cut.7 In an interview with the Oral History Centre in 1985, Mr. Tay gave details about the pineapple factory where he used to work:
""I would say approximately around about 200, you know, 200 people working all in different sections. The pineapple cutters are the most. Then there is another section. They put this syrup into the tin. Then after that another section will seal up the tin. Then they go to the heater. They heat the tin up so that it becomes a sort of a seal with the preservative inside there. Then after that it goes to another department to put the label on. Then finally pack into cases like that for export. So like that the factory will have at least about 200 people and mostly men working."8


Source: Ministry of Communications and the Arts
Pineapple canning circa 1952. This was a labour-intensive process. Pineapple cutters, for example, needed to remove the eyes and stem of the fruit before cutting the fruit into slices or cubes. Kepalas (or supervisors) would be on hand to ensure cubes were cut in a standardised way to ensure the quality of the final product.9

However, Singapore's pineapple industry could not sustain its success as it lay in the shadow of and was treated as a "by-product of the rubber industry."10 The mostly Chinese estate owners tended to focus their attention on rubber and did not do enough to improve the quality of pineapple cultivation. Compared to the Hawaii produce, "Malayan pineapples have always ranked as a comparatively inexpensive article and have come to occupy the place of the cheapest canned fruit on the market."11 Prices suffered further when the rubber industry was severely hit by the Great Depression of the late 1920s and early 1930s and pineapple experienced its ripple effects.
The Pineapple Conference: Setting Industry Standards
A Pineapple Conference was held in Singapore over December 1930 and March 1931 to assess the state of the Malayan pineapple canning industry and recommend ways to improve it.12 One aim was to get estate owners to treat pineapple as a primary crop so that more care would be taken into its cultivation. Subsequently, the 1934 Pineapple Factory Regulations made it mandatory for the registration and inspection of pineapple factories to ensure production quality and hygiene standards were met.13 Several Pineapple Industry Ordinances were also passed between 1934-1952, which, among other things, imposed guidelines on working conditions.14
One interesting Ordinance was the Malayan Mark Pineapple (Grading and Marking) Regulations of 1938. Canned pineapples were to fall under two grades, Golden and Standard. To qualify for the Golden grade, for example, it was required that:
"the fruit shall be fully ripe, sound and of excellent quality, of practically even degree of ripeness, of fully ripe golden colour and of excellent flavour. 'Golden' slices, whether round or spirally cut shall be prepared from 'Golden' grade fruit as defined above. Each slice shall be free from discoloration, eyes, seeds, under-ripe and over-ripe patches and foreign material, and shall be approximately circular in outline. The slices shall be reasonably uniform in size and thickness. Cores shall be removed and the holes made for this purpose shall be circular in outline."15

All graded tins would then bear the Malayan Mark label featuring a ferocious tiger with either the accompanying text "Malayan Mark Selected Fruit: Standard Grade" or "Malayan Mark Choice Fruit: Golden Grade".
Unfortunately, these measures were not enough to improve depressed prices. A Co-operative Selling Agency was started by pineapple packers in 1935 to assign production quotas so as to raise prices.16 This helped boost prices for a short while until a drastic drop took place by the late 1930s, when the average price of 100 first quality pineapples plummeted from $3.29 in 1936 to $1.40 in 1938, while the price of 100 second quality pineapples also dove from $2.78 to $1.01 during the same period.17 The total area of pineapple plantations in Singapore shrunk from 10,000 acres in 1932 to 2,800 acres six years later.18 The Straits Settlements: Report for 1936 noted that:
"Several areas which had been cropped with pineapples for a number of years were cleared of this crop and planted with vegetables and derris, as the land had become unproductive under continuous cropping with pineapples."19

By the mid-20th century, following the Second World War, pineapple cultivation in Singapore was in decline. Attempts to cultivate pineapple as a sole crop, independently of rubber, was not successful. The harvest was of low quality and unsuitable for canning. By 1955, only a few hundred acres of pineapple plantations were left. By then, the centre of the Malayan pineapple and canning industry had shifted to Johore.
"Several areas which had been cropped with pineapples for a number of years were cleared of this crop and planted with vegetables and derris, as the land had become unproductive under continuous cropping with pineapples."19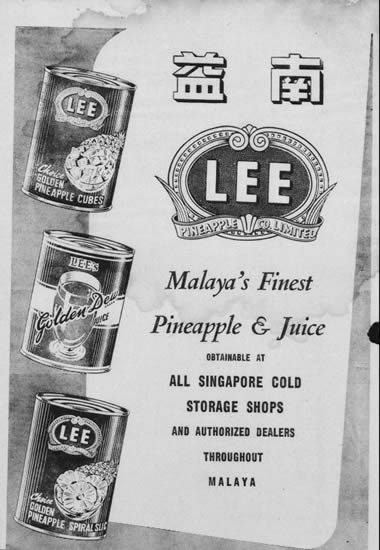 Source: National Archives of Singapore
An advertisement for Lee Pineapple Company Limited, circa 1950s and 1960s. The company was set up in 1931 by rubber tycoon Lee Kong Chian, the same year that he established Lee Rubber Company Private Limited.



1"Speech by Mr. Hon Sui Sen, Minister for Finance, at the 6th Anniversary Dinner of the Pineapple Industry Marketing Corporation on 7th July, 1972, at 8.15pm at Goodwood Ascot Room."

2More information about the cultivation of gambier and other spices can be found in National Archives of Singapore's travelling exhibition, Spice Frontier: Changing Boundaries, Evolving Uses, which is available for booking.


3"Report of the Pineapple Conference", 31 Aug 1931, in Straits Settlements Legislative Council Proceeding 1931,p. C223


4Lim Chong Hsien, Oral History Interview in Mandarin, Translated into English by Larry Loke, Acc. 000582, Reel 1


5"Report of the Pineapple Conference," 31 Aug 1931, in Straits Settlements Legislative Council Proceeding 1931, p. C220


6"Report of the Pineapple Conference," 31 Aug 1931, in Straits Settlements Legislative Council Proceeding 1931, p. C218


7Tay Meng Hock, Oral History Interview in English, Acc. 0000470, Reel 2


8Tay Meng Hock, Oral History Interview in English, Acc. 0000470, Reel 2


9Tay Meng Hock, Oral History Interview in English, Acc. 0000470, Reel 2


10"Report of the Pineapple Conference", 31 Aug 1931, in Straits Settlements Legislative Council Proceeding 1931, p. C218


11"Report of the Pineapple Conference", 31 Aug 1931, in Straits Settlements Legislative Council Proceeding 1931, p. C220


12"Report of the Pineapple Conference", 31 Aug 1931, in Straits Settlements Legislative Council Proceeding 1931, pp. C214-C245


13"The Pineapple Factory Regulations, 1934", in Straits Settlements Legislative Council Proceeding 1934, pp. C317-C324


14See "The Pineapple Industry Ordinances" of 1934 (p. C739), 1938 (p. C86-C94) and 1951 (pp. C222-C234) in respective Straits Settlements Legislative Council Proceedings


15"The Pineapple Industry Ordinance" in Straits Settlements Legislative Council Proceeding 1938, pp. C86-C94


16"Straits Settlements, Report for 1935", in Annual Reports of the Straits Settlements


17Prices collated from "Straits Settlements, Report for 1936", "1937" and "1938", in Annual Reports of the Straits Settlements


18Pineapple acreage collated from Straits Settlements Annual Reports from 1932-38


19"Straits Settlements Report for 1936," in Annual Reports of the Straits Settlements